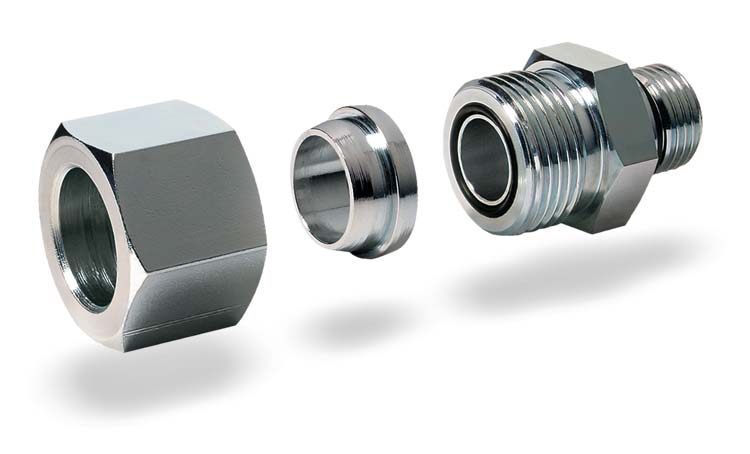 ORFS SAE J1453
IL DIE NEUE CAST ORFS VERSCHRAUBUNG
• GRANTIERT PERFEKTE DICHTHEIT • BIETET HÖCHSTE FUNKTIONALITÄT BEI DER MONTAGE • BIETET HÖCHSTE VERLÄSSLICHKEIT E
ERHÄLTLICH IN CARBON STAHL UND IN EDELSTAHL

GRUNDPRINZIP
Die CAST Verschraubung nach ISO 8434-3/SAE J1453 ist eine mechanische Verbindung, die traditionell für fluiddynamische Hochdruckverbindungen eingesetzt wird. Die Dichtheit wird durch zwei ebene Oberflächen, Metall auf Metall, ohne irgendeine Verformung der Komponenten und durch eine elastomere Dichtung (O-Ring) in einem auf der frontal angeordneten Oberfläche der Verschraubung eingearbeiteten Sitz erreicht. Die Verbindung zwischen Verschraubungskörper und gebördeltem Rohr wird durch eine Überwurfmutter und eine Hülse in ihrem Inneren erreicht. Damit können schnell demontierbare Verrohrungen realisiert werden, da Schweißen und Gewindeschneiden vermieden werden. So wird der Aufbau von komplexen öldynamischen Anlagen so einfach wie möglich gemacht. Wiederholter Anbau beeinträchtigt die Leistungsmerkmale der Verbindung nicht. .
ORFS SAE J1453
THE NEW CAST ORFS FITTING
A DRY AS THE DUST SEAL
EASY TO ASSEMBLE
A KNOWN PRODUCT, SAFE AND RELIABLE
AVAILABLE IN CARBON AND STAINLESS STEEL

THEORY OF OPERATION
The CAST S.p.A. fitting according to the norms ISO 8434-3 / SAE J1453, is a mechanical fitting traditionally used for high pressure oleo-dynamic systems.
The sealing is made by the contact between two metal surfaces, with no deformation of the single components, plus an elastomeric sealing (O-Ring) placed into a groove on the front part of the fitting.
The coupling between the body of the fitting and the flared tube is guaranteed by the tightening nut and by the pressure sleeve on the inside. This allow to realize a fast assembling-disassembling tube making the easiest realization of complex oleo-dynamic systems.