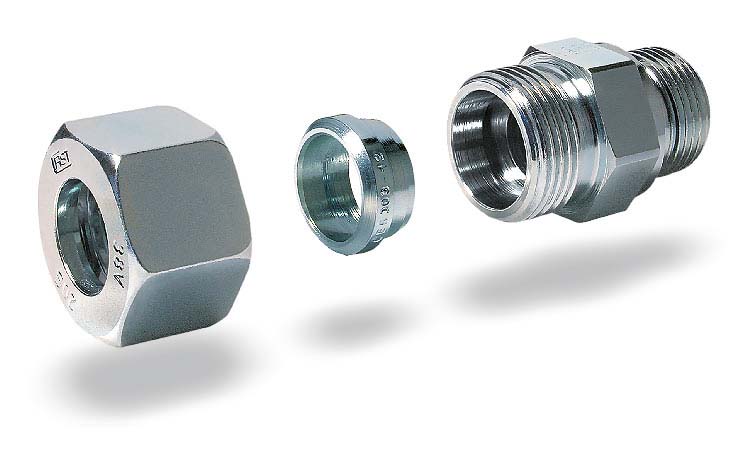 DIN 2353 B3
STANDARDRING MIT ZWEI SCHNEIDEN, MONTIERT AUF ALLES CAST PRODUKTEN – GEWÄHRLEISTET DICHTHEIT UND ZUVERLÄSSIGKEIT.
HERGESTELLT AUS UNLEGIERTEM STAHL UND AUS EDELSTAHL

GRUNDPRINZIP
Die CAST Verschraubung nach ISO 8434-1/DIN 2353 ist ein mechanischer Anschluss mit einem Zweischneiden-Schneidring, der progressiv auf dem Rohr einschneidet. Mit dem Ring "B3" können schnell demontierbare Verrohrungen realisiert werden, da Schweißen, Gewindeschneiden und Bördelungen vermieden werden. So wird der Aufbau von komplexen öldynamischen Anlagen so einfach wie möglich gemacht. Beim Verschrauben mit der Mutter dringt der Schneidring in den 24° Kegel, schneidet mit seinen zwei Schneiden in das Stahlrohr ein und bewirkt zwei tiefe Einschnitte. Der erste, sichtbar durch den Aufwurf eines Außenrands auf dem Rohrumfang, garantiert Dichtheit und Schutz gegen Abziehen des Rings vom Rohr; der nicht sichtbare zweite Einschnitt hilft, die Kräfte gleichmäßig auf den gesamten Ring zu verteilen. Er verhindert, dass Vibrationen den ersten Einschnitt erreichen und begrenzt die Einschnitttiefe durch einen vordefinierten Wert.
DIN 2353 B3
STANDARD DOUBLE CUTTING EDGE RING ASSEMBLED ON ALL CAST PRODUCTION ASSURES SEALING AND SAFETY.
AVAILABLE IN CARBON AND STAINLESS STEEL

THEORY OF OPERATION
The Cast fitting, manufactured according to ISO 8434-1/DIN 2353 norm is a mechanical fitting with a double cutting ring for double stapling on the tube.
The ring helps fast assembly of removable tubes, avoids welding, tapping and flaring, thus assuring maximum simplicity of complex oleo-dynamic systems.
During tightening by the nut, the ring deforms according to the bore of the 24° cone of the fitting and bites into the steel tube, producing two deep cuts the first of which is visible due to lifting of an outer edge on the diameter of the tube, allows the water tightness and anti-unthreading of the ring. The second groove (invisible) balances the forces on the whole ring, prevents vibrations to reach the first groove and stops the stapling of the tube at a predetermined value.