Per un Continuo Miglioramento
Il personale impiegato a tempo pieno nella qualità e nella ricerca è altamente qualificato, continuamente aggiornato e rappresenta il 10% delle maestranze impiegate nella nostra Società.
Fin dal lontano 1993 manuale e procedure della qualità seguono costantemente l'evolversi delle norme di riferimento.
Le molteplici visite ricevute dagli ispettori dell'Ente di certificazione confermano il progressivo adeguamento alle prescrizioni della norma ISO 9001 ed il continuo miglioramento del livello del Sistema di gestione per la qualità.
Oltre alla certificazione del sistema qualità la CAST ha ottenuto negli anni numerosi Certificati di Prodotto per le proprie gamme da enti qualificati come il DNV, RINA, Germanischer Lloyds.
For a Constant Improvement
The staff concerned full time in the Quality and Research is highly competent and constantly brought up to date and represents the 10% of the employees working with our company.
Since 1993 our manual and quality procedures constantly follow the reference rules development.
The numerous inspections carried out by the certification agencies have always confirmed the continuous adjustment to the ISO 9001 norm requirements and the steadfast improvement of our quality system.
Moreover CAST has obtained several Type Approvals for its products range from DNV, RINA, Germanischer Lloyds.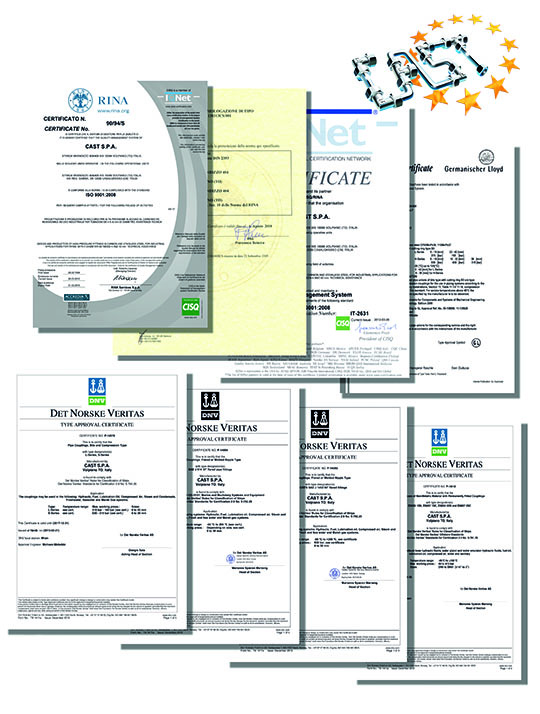 Cast Quality control departments
Our
Quality